Sierra Leone
Sierra Leone continues to recover from a decade-long civil conflict that ended in 2002. The war destroyed much of the country's infrastructure and displaced hundreds of thousands of people. Rural areas face many challenges that have slowed recovery, leading to high rates of poverty, hunger and disease. The country also continues to recover from the 2014 Ebola outbreak.
Episcopal Relief & Development and the Anglican Diocese of Bo have worked together for many years on integrated programs that focus on community health, with particular focus on malaria. The Church's community networks active in educating and mobilizing communities on malaria were vital in mounting a successful response to Ebola, and ongoing Ebola recovery work will continue to include awareness and prevention on these issues, with special focus on women, children and people with disabilities.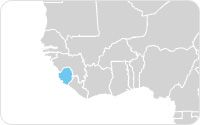 Creating Economic Opportunities and Strengthening Communities
Supporting income-generating activities to strengthen communities and improve the local economy
Promoting Health and Fighting Disease
Reducing preventable diseases to increase child survival
Empowering women to improve health for themselves and their children
Reducing the long-term impact of Ebola by providing services, promoting awareness and fighting discrimination
Fighting malaria through implementing the NetsforLife® methodology
Responding to Disasters and Rebuilding Communities
Examining possible hazards and leveraging local strengths and resources to reduce disaster risk and build resilience
Over 300,000 women worldwide die each year from preventable causes related to pregnancy and childbirth. Millions of infants die in their first few weeks of life – many of them also from preventable conditions. Prenatal care and monitoring health of expectant and new mothers and their children reduces illness and saves lives. Read more about Maternal and Child Health.
Read more about Maternal & Child Health
Planning ahead for disasters can go far in minimizing their potential impact – especially for people already facing poverty, who may lose their few assets or safety nets. To this end, Episcopal Relief & Development is partnering with the Episcopal/Anglican Church to better prepare for and respond to disasters. Read more about Disaster Risk Reduction.
Read more about Disaster Resilience
Episcopal Relief & Development's NetsforLife® program partnership is working in 17 countries across sub-Saharan Africa to fight malaria with life-saving nets and education. Since it began in 2006, NetsforLife® has distributed more than 22,000,000 nets and provided education on their proper use and maintenance, reducing the number of malaria cases by up to 45% in program areas. Read more about Malaria.
Read more about Malaria