Jordan
Jordan is hosting more than 650,000 people displaced by the conflict in Syria. These refugees, along with local communities, greatly benefit from support to overcome extreme poverty and physical disabilities.
Without abundant natural resources or fertile land, Jordan's economy does not generate enough traditional jobs. Poverty and unemployment hover around 30% and people with disabilities are at a particular disadvantage in finding ways to make a living. Additionally, disability is still stigmatized or misunderstood in many parts of the country, and children and adults who are blind, deaf or developmentally challenged are often ignored or hidden away.
Episcopal Relief & Development is partnering with the Episcopal Diocese of Jerusalem's Holy Land Institute for the Deaf (HLID) to provide facilities-based rehabilitation, education, vocational training and other services for children and young adults living with disabilities, with additional support for their family members. Health care providers test vision and hearing, as well as fit and distribute devices that assist impaired vision, hearing, mobility or posture. HLID aims to place students into public schools when possible, to aid with students' development and education and to increase public awareness and understanding of disabilities.
In addition to the ongoing training of the teachers and volunteers who run the programs and workshops, the center also provides vocational training and employment programs to young men and women with disabilities. HLID students learn how to sew, weave and make paper, and the craft items they make are sold in local gift shops and tourist areas. The proceeds help to sustain the operation of the center, and also provide participants with an income, giving them increased independence and empowerment. They are also given the opportunity to improve their professional skills and take part in policy development, decision-making and administration.
In 2012, HLID began working in the Za'atari Camp for Syrian refugees, providing outreach and services for children with disabilities. In 2016, they expanded operations to serve a second camp, Azraq. Since then, high quality diagnostic and rehabilitation services have been provided to hundreds of children and adults alike. In 2018, the program established an HLID Network Center in Azraq Camp to respond to more of the rehabilitation needs of Syrian refugees with disabilities.
In 2019, both centers plan to provide quality cross-disability services for over 700 individuals with impairments, including those who are hearing impaired, visually impaired, physically impaired and/or intellectually challenged and their family members. These services included the lending and distribution of equipment and learning devices, physiotherapy, audiological testing, hearing aids, hearing aid repair/maintenance and earmolds, as well as eye tests and eyeglasses. In addition, both centers will continue to offer vocational training and employment programs to provide professional skills training and job identification service for young men and women with disabilities. Episcopal Relief & Development, HLID and the other centers hope to persistently focus on educating communities on issues related to disabilities to encourage inclusion. A key priority of both centers is the integration of children with disabilities in regular public schools, with outreach support to educators and students.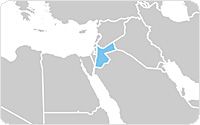 Children
Our work with Children supports and protects kids under six so they reach appropriate health
and developmental milestones. This focus on early development is foundational and critical to
helping children achieve their full potential as future contributing members of their communities.
When kids under six reach appropriate health and developmental milestones, they can reach their full potential as future contributing members of their communities.
Read more about Children