Guinea
In the aftermath of the Ebola outbreak, Episcopal Relief & Development and the Anglican Diocese of Guinea are supporting agricultural and economic recovery as well as the strengthening of health infrastructure in 14 affected communities in the Fallanghia area of Dubreka province of Guinea.
The program provides seeds, tools and training for farmers to grow food on their own land or on church property to feed their families and generate income. Trainings include teaching climate-smart farming, crop cultivation techniques and farm maintenance. A portion of the income from produce grown on church property is set aside for reinvestment in the program, ensuring lasting and sustainable development. The project's community health education efforts are related to malaria as well as community-led sanitation and increasing health-seeking behaviors among community members. In 2018 and 2019, the diocese is working to expand its community-led sanitation efforts to 10 new communities, as well as continue climate-resilient agriculture training with 73 farming households.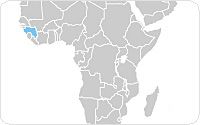 Women
Our work with Women focuses on helping communities promote the rights of women and children and move toward the vision that everyone deserves a life free from violence in a society where they are treated with dignity and respect. Only then can communities truly heal and thrive.
Children
Our work with Children supports and protects kids under six so they reach appropriate health
and developmental milestones. This focus on early development is foundational and critical to
helping children achieve their full potential as future contributing members of their communities.
Climate
Our Climate-related work focuses on how families and communities can work
together to adapt to the effects of rapidly changing weather patterns. This work includes
preparing for and recovering from climate-influenced events such as floods, hurricanes and other disasters.
Over 300,000 women worldwide die each year from preventable causes related to pregnancy and childbirth. Millions of infants die in their first few weeks of life – many of them also from preventable conditions. Prenatal care and monitoring health of expectant and new mothers and their children reduces illness and saves lives. Read more about Maternal and Child Health.
Read more about Maternal & Child Health