Disaster Risk Reduction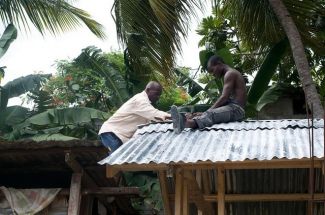 An ounce of prevention is worth a pound of cure, Benjamin Franklin once noted. This adage is especially true when it comes to disasters. Planning ahead and taking steps to lessen the impact of potential disasters can go a long way in minimizing the suffering and damage that often follow—particularly in places where people already face poverty and may lose the few resources or safety nets they have.
To this end, Episcopal Relief & Development has partenered with the Episcopal/Anglican Church to better prepare for and respond to disasters, whether natural or human-made. At the core of this goal is the Disaster Risk Reduction and Management initiative with the Anglican Diocese of Colombo and the Church's Auxiliary for Social Action (CASA) in Sri Lanka.
A working group of regional and international partners evaluated existing disaster preparedness and response practices, identified possible improvements, and produced a toolbook of core competencies and standards, best practices and case studies.
Download Toolkit: Pastors and Disasters Toolkit pdf
  Pastors and Disasters Toolkit A4 pdf
The Pastors and Disasters Toolkit is available in Spanish, French and Portuguese in both US and international versions, downloadable as PDFs by clicking on the links.
Pastors and Disasters Toolkit in Spanish (US)                         Pastors and Disasters Toolkit in Spanish (International)
Pastors and Disasters Tooklkit in French (US)                         Pastors and Disasters Toolkit in French (International)
Pastors and Disasters Tooklkit in Portuguese (US)                  Pastors and Disasters in Portugueuse (International)
To address the need for increased capacity, the program includes a "training of trainers" component, with learning and practical field work. Participants will go on to facilitate disaster response training for others, which will expand local churches' ability to act more effectively in future emergencies.
Our program is designed to provide an approach that is consistent, yet adaptable to varying local contexts and disaster situations. Once the regional pilot has concluded, we plan to expand the initiative to other global partners.
Your partnership will help the worldwide Church improve its ability to respond to emergencies and reduce their impact by:
Enabling our partners to develop and refine the Disaster Risk Reduction and Management program, training and toolbook
Supporting the working group in organizing international workshops to share experiences, best practices and resources
Empowering local church partners and communities to prepare for potential threats with measures such as installing early alert systems and elevating homes in flood-prone areas
Promoting tree planting, sustainable agricultural practices and other activities in areas where deforestation and soil erosion can contribute to landslides and flooding

Donate
to the Disaster Risk Reduction fund
A preparation plan can save thousands of lives during an emergency. Your donation goes directly to providing essential resources and training for those in disaster-prone areas. Our worldwide partners include disaster risk reduction measures in their ongoing development programming. Help communities prepare and protect themselves

—

donate today.